front
This is our last year before retirement. We will close down our business on January 1, 2015!!!
We are already are running low on certain products. If you have a favorite... grab it now!
Watch for continuing discounts and sales each month!
And... we still have a few surprise items for 2014 so check back with us!
Many thanks to all our customers that have made our business wonderful!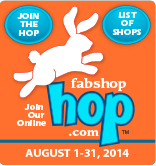 It's amazing but our sales just got even better!  We've dropped the prices AGAIN on just about every product!!!  Our bunny is in a daze at the incredible sales but has started on the Quilt Bookmarks page since they make such great gifts for friends!  Enjoy!!!