This is our last year before retirement. We will close down our business on January 1, 2015!!!
We are already are running low on certain products. If you have a favorite... grab it now!
Watch for continuing discounts and sales each month!
And... we still have a few surprise items for 2014 so check back with us!
Many thanks to all our customers that have made our business wonderful!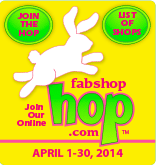 Our bunny has found a surprise on our quilt card page. We have gathered quilt cards from all of our quilt card packs to create a grab bag of 10 different cards and the price can't be beat! Our bunny is ordering quite a few because the grab bag packs are limited! Get them while you can and... yes... the remaining quilt card packs have dropped in price too! Enjoy all our HUGE discounts!